The corner stone of Our Lady Star of the Sea and St. Drostan, was laid on the 1st June 1895, and just one year later, the church was dedicated by Bishop McDonald on the 18th June, 1896. The total cost was £3,140.00 including the purchase of the feu. This cost was met by public subscription, the main benefactress being Mrs. Grattan-Bellew, the then Lady Saltoun's mother.
Messrs. Ellis & Wilson of Aberdeen, who had been involved in the building of the Cathedral in Aberdeen were engaged as architects. At this time there were between forty and fifty Communicants, but the church was built to accommodate four hundred souls, as the congregation was greatly increased by the men and women from Barra, Eriskay and South Uist who followed the herring fishing.
Going back a bit to 1836, there were only six Catholics in Fraserburgh and they apparently attended mass in New Byth along with Catholics from Pennan, New Deer, Mintlaw, Strichen and Turriff. By the 1880's, Fraserburgh was served by the priest based in Strichen. The Chapel and presbytery, now a private house, can be seen clearly in Brewery Road.
By 1891, the number of Catholics in Fraserburgh plus the seasonal influx of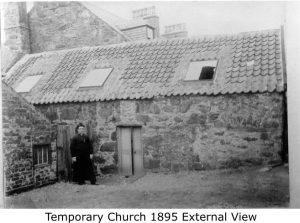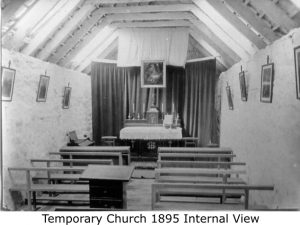 Highlanders prompted the decision to build the Church and presbytery in its present location. The fund raising was started by Fr. Gerry, based in Strichen and conducting Mass in houses and the Dalrymple Hall. In 1894 he was succeeded by Fr. Henderson, a native of Keith. There are photographs in the Parish room showing Fr. Henderson, the rough pan tiled building and the inside of the church which was used for worship in Lodge Walk, before the new church was completed. (These photographs were donated to the parish by Mr. Malcolm Ogilvie-Forbes)
Tragically, Fr. Henderson died age 29 in the February following the completion of the building.
The High Altar of oak, carved in M. Beyaert's workshop in Bruges was gifted by Mr. McGrath, Postmaster in Beauly; and the pulpit, also in oak, by Mr. Grant, a local brewer. Lady Saltoun's kindness enabled a structural change to accommodate the two side altars. The Lady altar was raised as a memorial to Fr. Henderson by his successor, Fr. Nicol, who also had the altar rail built. Mr. J.C. M. Ogilvie-Forbes of Boyndlie had the Sacred Heart altar built in memory of his wife, Christina who died age 31 just a few months after Fr. Henderson. She is buried beneath the Sanctuary.
 Fr. Nicol served in Fraserburgh for three years and when he left, the parish was free of debt. The next incumbent, Fr. Wiseman with the help of benefactors raised the money to install the Stations of the Cross in 1911.
Thus the church remained until relatively recently, when the pulpit was split in two, the base being incorporated into the Altar and the top serving as the lectern.